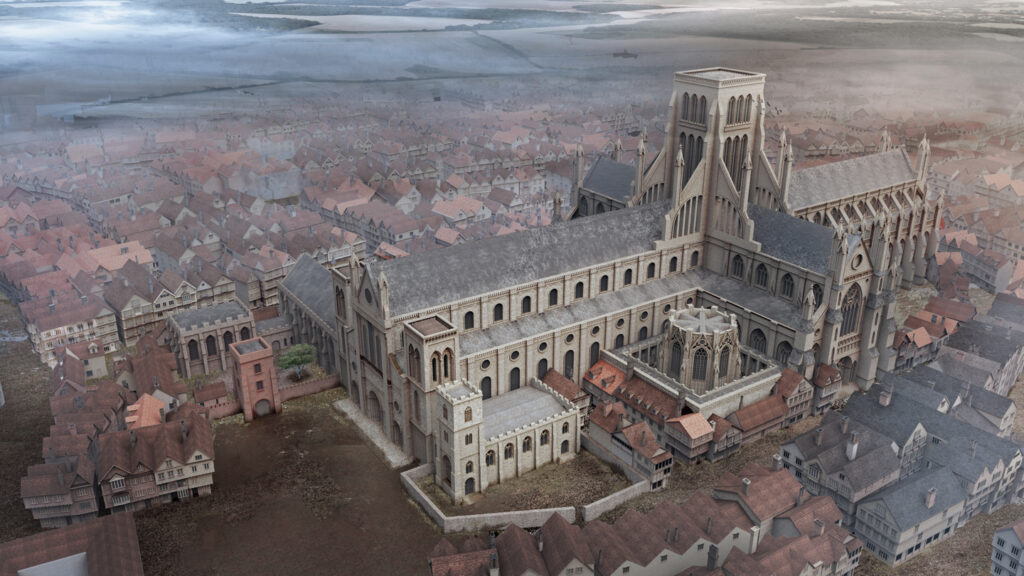 PLEASE BE ADVISED —
THIS WEBSITE IS UNDER CONSTRUCTION. EVERYTHING CURRENTLY ON THE SITE IS IN DRAFT FORM AND IS SUBJECT TO CHANGE. 
The Virtual St Paul's Cathedral Project enables us to experience worship and preaching at St Paul's Cathedral as events that unfold over time and on particular occasions in London in the early seventeenth century. Such events underscore how the post-Reformation Church of England placed corporate worship at the center of its religious identity. The worship practices of the gathered community provided the context, and the vehicle, for understanding Christian faith, developing religious identity, and practicing the vocabulary of belief.  
By the time John Donne became Dean of St Paul's Cathedral in 1621, the Church of England defined by the Elizabethan Settlement of Religion (1559) had been in place for six decades. Several generations of Englishfolk had been baptized, confirmed, participated in worship services, received Holy Communion, married, ministered to in sickness, and buried through use of the Prayer Book rites.
Sundays in cathedrals and collegiate and parish churches saw the people of God gathered for Morning Prayer, the Great Litany, and Holy Communion with sermon, followed in the afternoon by Evening Prayer, perhaps including catechizing or another sermon. Each weekday, clergy, either alone or with members of their flocks, continued the reading of Morning and Evening Prayer.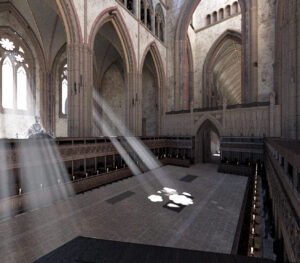 The St Paul's Cathedral Project enables us to explore how — through use of the Prayer Book — the Bible was received and the parishioners' relationships with God were negotiated through public worship, the public performances of lectionary readings, preaching from biblical texts, and performance of biblically-derived Prayer Book liturgies.  Parishioners were no longer passive observers of rites performed by clergy, but were active participants in these rites.
Over the course of a lifetime, Englishfolk were formed as post-Reformation Christians and developed their understanding of the faith through their corporate practice. Assured that their children were, through Baptism, "regenerate and graffed into the bodye of Christes congregacion," assured at Holy Communion that they were "very membres incorporate in thy mistical body, whiche is the blessed company of al faithful people, and . . . heyres through hope of thy everlasting kingdom," assured at funerals that their deceased loved ones were buried in "sure, and certein hope of resurrection to eternall lyfe," assured three times during every Sunday's services that they had received "mercy," "pardon," and "absolution" from their sins, been confirmed and strengthened "in all goodness," and advanced on the way "to everlasting life," they were constantly being affirmed, informed, and supported in their Christian journey.
Performance of these interactive and community-building rites of public corporate worship, scripted by the Book of Common Prayer, thus enabled the nation, gathered in prayer, to join in unison in its address to God, be assured that their sins were forgiven, find support in times of trial, and affirmation that they were "fulfilled with [God's] grace and heavenly benediction. " (BCP, Holy Communion, Post-Communion Prayer).  As a result of this general implementation of Cranmer's plan for the transformation of corporate religious life in England, what had been new and strikingly different in 1549, or 1552, or even 1559 had become customary, expected, and reassuring. As Eamon Duffey has put it, "Cranmer's somberely  magnificent prose, read week by week, entered and possessed their minds, and became the fabric of their prayer, the utterance of their most solemn and their most vulnerable moments."[1]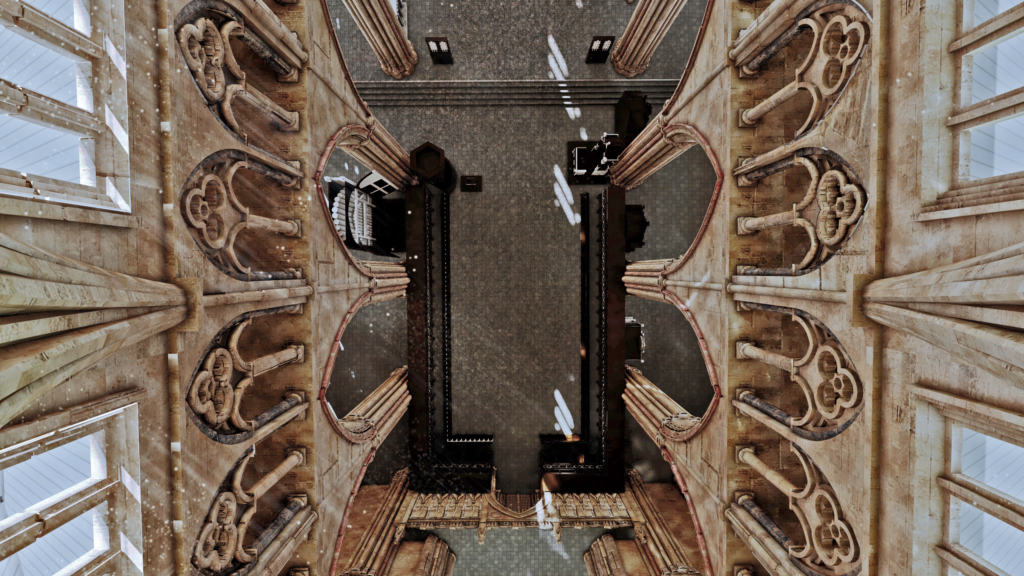 St Paul's Cathedral, the Choir from Above, Rendered by Austin Corriher
Setting
We locate our recreation of the rites of the Book of Common Prayer in the Choir of St Paul's Cathedral in London in the 1620's, during the tenure of John Donne as Dean of the Cathedral. Our interest in specific physical spaces is as deliberate as our interest in the rites of public worship because they define what people see when they gather, and how well they can hear, and what distractions they might encounter. Worship scripted by the Book of Common Prayer is always embodied worship, taking place in specific sites, with specific gatherings of people, and on specific occasions in the Church Year and in the individual and corporate lives of the clergy and their congregations.
To make it possible to understand the full experience of corporate public worship in the post-Reformation Church of England, the Cathedral Project recreates worship services from the Book of Common Prayer (1604) on two representative days in the Church of England's liturgical calendar. The central event is a recreation of worship for Easter Sunday, March 28th, 1624, a festival occasion. The day begins with Sung Mattins, continues with the Great Litany and Holy Communion, including Bishop Lancelot Andrewes' sermon for that day, then concludes with Evensong and the sermon John Donne, Dean of the Cathedral, preached at the cathedral on that day in 1624.
The second day of services is for the Tuesday after the First Sunday in Advent in 1625, an ordinary (or ferial) day on the calendar of the Church of England, a day defined only by the observation of Matins and Evensong. These services are set within a detailed model of the cathedral itself, as well as the buildings and spaces that surrounded it in Paul's Churchyard, as they were until they were all swept away by the Great Fire of London in 1666.
Personnel
We focus attention on John Donne, the English poet and essayist who was born into a Roman Catholic family but who became a priest of the Church of England in 1615 and served as Dean of St Paul's from 1621 until his death in 1631. More famous for his poetry, Donne also preached dozens of sermons in his lifetime, creating a body of religious prose that dwarfs the scale of his secular writings.
Donne became a priest of the Church of England nearly 60 years after the Elizabethan Settlement of Religion (1559) had established the basic institutions, structures of authority, ceremonial practices, and beliefs of the reformed Church. The Elizabethan Settlement had survived the challenges of those who believed it was insufficiently reformed, as well as the uncertainties posed by the transition from the reign of Elizabeth I to the reign of James I. The Elizabethan Settlement had been reaffirmed by the Hampton Court Conference of 1604. It, along with James I, had escaped the potentially catastrophic aftermath of the Gunpowder Plot of 1605.
By the time Donne became Dean of St Paul's Cathedral in 1621, the religious life of England had had six decades of public worship and spiritual formation enabled by use of the Book of Common Prayer. Language and practices that in the early 1560's were startlingly new had become familiar and habitual. They had, in Eamon Duffey's words, "entered and possessed [the] minds [of Englishfolk], and became the fabric of their prayer, the utterance of their most solemn and their most vulnerable moments."
In addition, by 1621, especially in cathedrals like St Paul's, the English choral tradition had also made the transition from Latin to English as new generations of singers and musicians had discovered ways of enriching Prayer Book worship through choral settings of Prayer Book canticles and other texts as well as through anthems based on biblical texts.
Quick Access