St Paul's Cathedral in the 16th and 17th centuries had a significant impact on the economic. social, and cultural life of the City of London as well as on other parts of the country. Future scholarly work could pursue the following lines of inquiry.
The Cathedral and the Church of England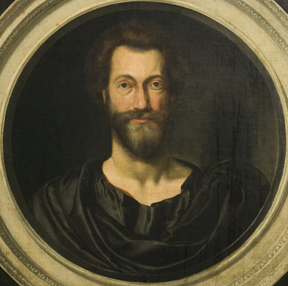 The Dean and Chapter of St Paul's Cathedral appointed clergy to posts in a number of parishes in London. This role by the Cathedral's leadership extended the influence of the Cathedral outward into the City of London and beyond in ways that potentially open up new avenues for research into clergy networks and areas of influence for Donne and the Chapter of Cathedral Canons.
To get this started, here is a list of the parish churches in London as well as outside of the City of London for which Donne and his colleagues were responsible for staffing, and the names of the clergy they appointed during Donne's tenure as Dean of St Paul's.
St Augustine, Watling Street — John Vickers (served from 1600 – 1633)
St Benet, Gracechurch Street — John Donne, MA (appointed 1592, served until 1636) (Not the Dean of the Cathedral!)
St Benet, Paul's Wharf — Thomas Adams (from 1619)
St Botolph's, Billingsgate — Michael Gifford (served from 1597 – 1629), William King (from 1629)
St Faith's under St Paul's — Martin Day (until 1624), William Woodford (until 1625), Finannel Smith (until 1625), John Lesley (until 1628), and Jonathan Brown (from 1628)
St Gregory's Parish Church beside St Paul's Simon Stubbs (until 1622), Thomas Jennings (from 1622)
St Giles Without Cripplegate — John Buckeridge (until 1628), William Fuller (from 1628)
St John Zachary, St Martin's Le Grand Street — Henry Hammond (1608-1623, William Spencer (1623 – 1625), Willian Carter (1625 – 1630), William Rolf (from 1631)
St Martin Orgar, St Martin's Lane, near Candlewick Street — William Johnson (until 1625), John L'Oiseau (1625 – 1628), Brian Walton (from 1628)
St Mary, Stoke Newington — Richard Lloyd (until 1629), John Taverner (from 1629)
St Mary, Sunbury — Mark Sadlington (from 1603)
St Michael, Bassishaw, Basinghall Street — John Gifford (1607 – 1642)
St Michael-le-Querne, Pater Noster Row — William Launce (from 1621)
St Michael, Queenhithe — John Hill (from 1618)
St Nicholas Olave, Bread Street — Richard Cheshire (from 1613)
St Olave, Silver Street — Thomas Mann (appointed 1621, served until his death in 1640)
St Peter, Paul's Wharf — James Burley (from 1626)
St Peter le Poer, Broad Street — Henry Hammond (until 1623), Richard Holdsworth (from 1623)
St Thomas the Apostle, Knightrider Street — Caesar Walpole (until 1627), William Cowper (from 1628)
Parishes outside of the City of London
All Hallow's, Tottenham — William Bedwell (from 1607)
All Saint's, Edmonton — Thomas Burton (from 1620 – 1631)
St Andrew, Kingsbury — Robert Bateman (from 1618 – 1634)
St James the Great, Friern Barnet — Richard North (until 1623), Matthew Reynes (from 1623)
St Martin's, West Drayton, Middlesex — Robert Elliot (until 1624), Emmanuel Hodges (from 1624)
St Mary, Willesden — Thomas Gifford (from 1615)
St Nicholas, Chiswick — William Walker (from 1597)
St Pancras, Middlesex — Richard Warner (until 1623), Henry Bradley (1623 – 1625), John Elborow (1625 – 1631)
The Cathedral and the Book Trade
The story of the growth of the book trade in the Churchyard of St Paul's Cathedral is well known. The growth of book stalls and book shops in the Churchyard was in part a consequence of the availability of land created by the breakup of the Cathedral's medieval Cloister, its Charnel Chapel, and its Charnel House. The Stationers Company moved into St Peter's College soon after the chantry clergy moved out.
Thanks to the research of Peter Blayney and others, we know a great deal about the specific bookshops and their owners, including their locations and signs. By organizing information gleaned from publication data on early modern books would make it possible for someone to know exactly what titles were available for sale in each of these bookshops, on at least an annual basis. This information could be coordinated with data drawn from sermons preached at Paul's Cross or inside the Cathedral to see if any correlations might emerge.
The Cathedral and the World of Crafts
John Donne was appointed Rector of St Edmund's Church in Blunham, in Bedfordshire, in April of 1622. Donne's relationship with this congregation seems to have been a special one. In 1626, he gave them a chalice and chalice cover that he had commissioned from a silversmith with a maker's mark merging the letters "T" and "F."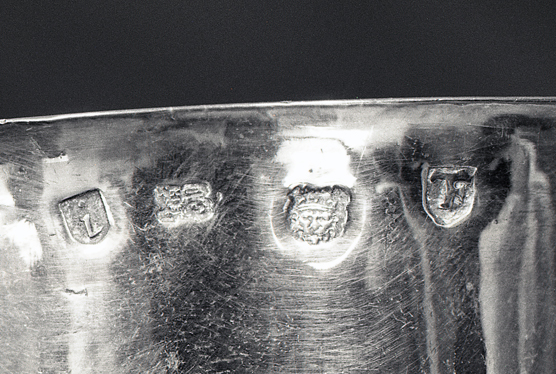 David Mitchell, author of Silversmiths in Elizabethan and Stuart London: Their Lives and Their Marks (2017) has advised me via personal correspondence that this mark is likely that of a silversmith named Thomas Francis, who leased property for his shop in Staining Lane, near Goldsmiths' Hall.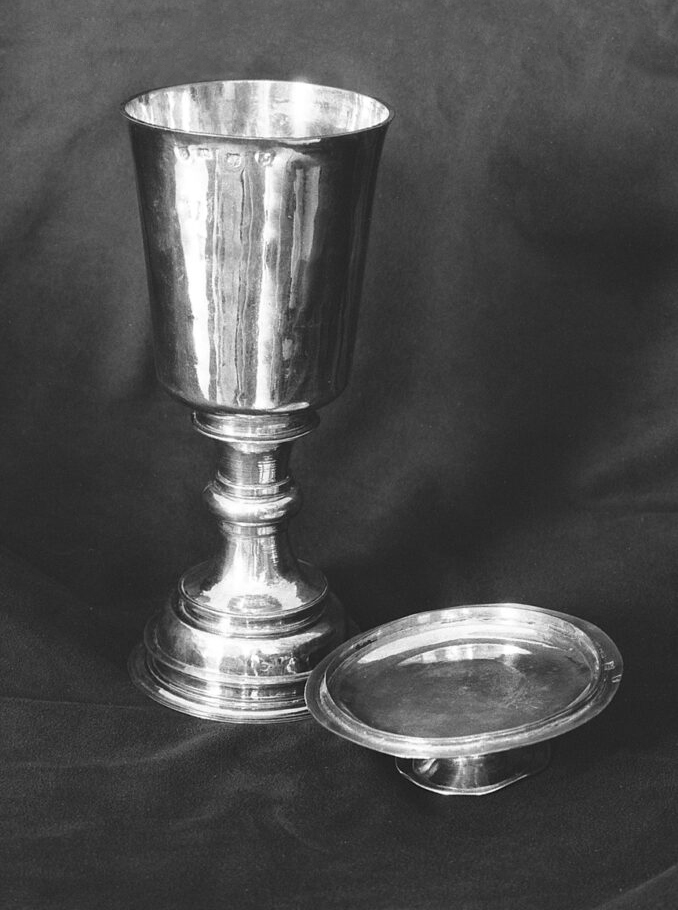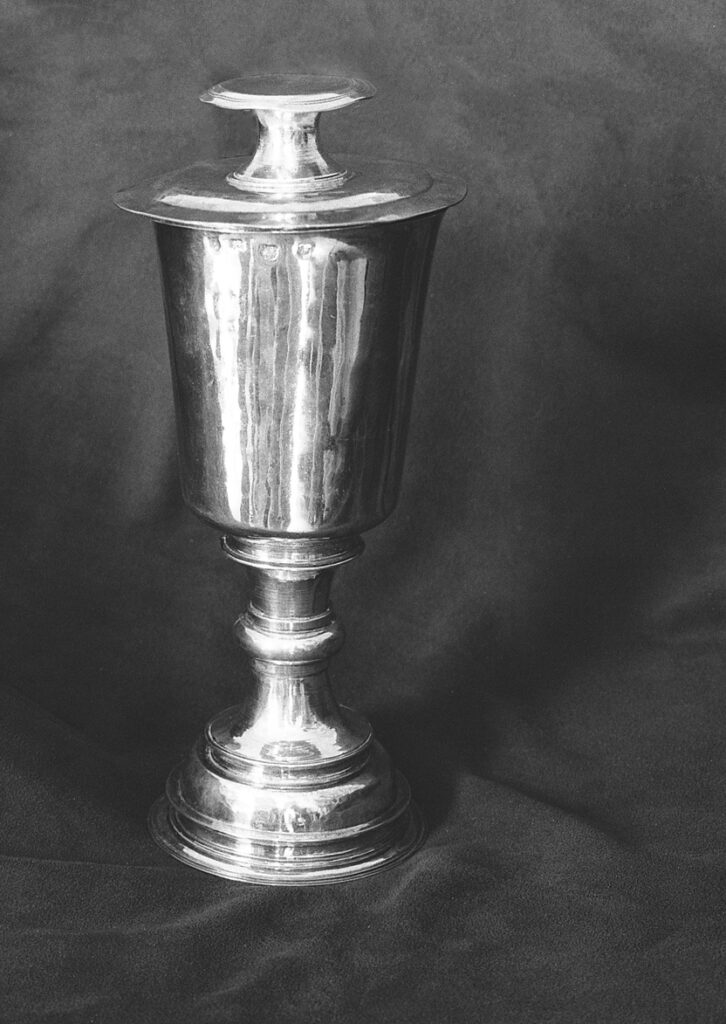 For Donne to get from St Paul's Cathedral Deanery to Francis' shop in Staining Lane, he would have had to head east across the Churchyard, exited the Churchyard via St Augustine's Gate, turned left onto Old Change and headed north to Cheapside, then turned right onto Cheapside, then turned left onto Foster Lane, right onto Gresham Street, then left onto Staining Lane, and proceeded northward until he arrived at Francis' shop, a walk of about ten minutes, covering about 1/3rd of a mile.
More information on Thomas Francis may be had by searching for him in the Goldsmiths 1600-1700 database compiled by Dr David Mitchell, accessible through the Goldsmiths' Company Library. The style of chalice Donne purchased is called a communion cup, a chalice that will hold a much larger volume of wine than the chalices used in medieval churches. Liturgical scholars suggest that this particular style of chalice came into use after the Reformation because the discipline of reformed churches called for communicants to receive both bread and wine when they received Communion. Hence, clergy administering communion needed to consecrate a larger volume of wine than had been called for by the practice of the medieval church, where communicants received only the bread of communion.
Further research into the surviving silver and goldsmiths' records may well yield information about the purchase of sets of communion sliver by other churches, providing more insight into the ceremonial of post-Reformation congregations.