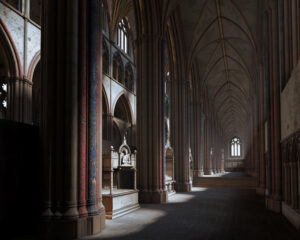 St Paul's Cathedral and the Churchyard around it served as graveyards for the nobility and the commonality throughout the Middle Ages and into the early modern period. Any Londoner could request to be buried in Paul's Churchyard, chiefly in the northeast corner of the Churchyard. During the early modern period, Londoners sometimes complained about the gravediggers leaving newly dug graves open when night fell, creating a hazaard for Londoners cutting across the Churchyard in the dark.
Space inside the Cathedral was generally reserved for members of the nobility or for senior clergy. John Donne was buried inside the Cathedral when he died in 1631, across the south aisle of the Choir from John Colet, Dean of St Paul's from 1505 to 1519. Some folks were buried in the Cathedral's floor, scattered through the Nave and into the Choir. Others were buried in tombs constructed along the sides and aisles of the Nave and Choir.
Most of the gravesites inside the Cathedral were marked by slabs in the floor, usually with an inscription or a monumental brass.
Welseslaus Hollar depicted a number of the free-standing tombs as well as some located against the outer walls of the Cathedral.